Axon Flex
Adaptive, Point-of-View Camera
Axon Flex is a compact point-of-view video system with flexible mounting options. The Flex can be worn in a number of different positions, including on an officer's eyewear, collar, epaulette, cap, helmet, and more. A 30-second buffer retains unexpected events with the touch of a button, and retina lowlight technology reveals the entire story, even at night. Flexible yet durable, precise yet thorough: the Axon Flex gives officers a powerful set of features and greater control over how to deploy them.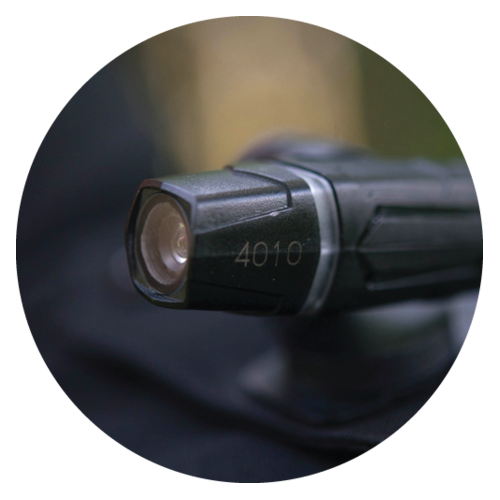 Your perspective has a witness.
The actions of law enforcement are being scrutinised like never before. Bystanders can record their perspectives of unfolding events and broadcast their reactions with ease. The Flex was created to protect truth, not opinion. It provides an indisputable record of the officer's perspective, helping stop complaints and allegations before they escalate.
Flexible Mounting Options: Affix to eyewear, helmets, shirt collars, SWAT helmets, ball caps, and more.
30-Second Buffer: Record events from their onset with the push of a button.
Durable Construction: Designed to withstand inclement weather and tough conditions.
Low-Light Recording: Adjusts to changes in lighting like the human eye.
Dock and Go: Uploads evidence automatically while charging.
Mobile Management: Stream, tag, and replay videos from your phone with the Axon View app.
Technical Specifications
Dimensions
Controller: Depth (D) 2.0 cm [0.8 in], width (W) 6.6 cm [2.6 in], height (H) 8.4 cm [3.3 in]
Camera: Depth (D) 8.1 cm [3.2 in], width (W) 2.0 cm [0.8 in], height (H) 1.8 cm [0.7 in]
Weight
Controller: 94 g [3.3 oz]
Camera: 15 g [0.5 oz]
Video
30 frames per second / 640 x 480 VGA video resolution
Battery
Rechargeable lithium-ion polymer battery (2500 mAH capacity)
Record Time
4 to 13 hours depending on resolution
Operating Temperature
-20° C to 50° C [-4° F to 122° F]
Warranty
1 year from date of receipt